News
Welcome to my atelier website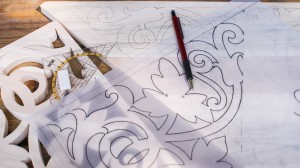 Decorating houses, providing houses with the sense of individualism is associated with solidity, prestige and wealth. Additionally, it ensures aesthetic comfort and makes occupants pleased to have contact with art. In present times, where a home fulfils basic protective functions, giving it an individual character and decorating with beautiful wooden elements increases its advantages, single out and fulfil high aesthetic owners' demands.
MandalaMan atelier was erected due to passion for drawing and cutting out in the linden wood openwork motives and decorative ornaments for home prestige and beauty. A drawing is a leitmotif of my activity, all I cut in the wood is previously sketched on a carbon paper and then copied to the wood.
Basic material is soft and light linden wood, which, when properly machined and polished obtains, interesting surface, plastic structure and smoothness. Natural wood pattern and its colours makes me leave with pleasure products for interior decoration as shell. Certainly, external decorations are properly protected against influence of weather conditions and coloured at the client's discretion.
This page, despite lime-wood ornaments and openwork designs, presents an author's Mandalaman Drawing Gallery, where I placed my current works and also proposals of paintings made from their digital conversion and colouring. Paintings are framed in stylized lime-wood frames made at the Atelier and constitute original decoration of modern walls and classic interiors. Displayed author's paintings have not yet been published anywhere.