About the atelier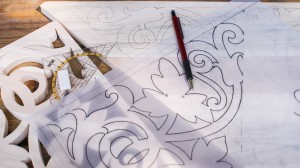 "Inspired by beautiful patterns, because of willingness to restore the memory about the wooden decorative art from 18th – 20th c., I passionately cut them out in wood to decorate interiors and houses elevations. I also create my own ornamental patterns in linden inspired by ethno- and esoteric symbolism."
– MandalaMan –
I sought for inspiration in fretwork pattern books from the period of their full bloom and in products of carpenters and masters of this vanishing craft. I reconstruct patterns from deteriorating, old galleries and verandas found during the trip of Pomerania, Warmia, Masuria and Podlasie region. Formerly they decorated mansions and were the sign of the occupants' wealth. They were full of symbols taken from folk motives as well as floristic models, proving about the connection between people and nature and being distinctive features of particular houses.
Restored and observed patterns are used in my atelier as external decorations of houses in the form of ornaments round windows and doors, decorative bands, sprockets, corners of houses and drainpipe elements. I design decorations and reconstruct forms of wooden constructions of galleries and verandas. Many times, I combine details using the old pattern books, as well my own original ornaments.
Patterns are used to design wooden, decorative interior elements. Within the scope I make wooden openwork designs, bars, small internal shutters, painting frames and lime-wood panels and partitions. Wooden laces can be a decorative element of doors of front furniture, cornices, headboards as well as small shelves and hangers. The only limitation towards openwork patterns and lime-wood ornaments is imagination and demand.